January 01 1970 12:00 am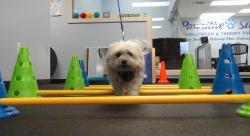 Meet Tigger, our April 2016 Pet of the Month! Tigger is an 11 year old Maltese, who injured his cruciate ligament in his right knee in January of this year. He also has a luxating patella on the same knee. Unfortunately, Tigger was not a candidate for cruciate surgery due to a pre-existing heart condition. Tigger's heart condition causes a murmur and minor coughing. It can also affect his blood pressure, so vigorous exercise can change his blood pressure enough to cause him to pass out.
Tigger began coming to see us in the beginning of February for conservative rehabilitation and pain management to help is R stifle (knee). Tigger's rehabilitation therapy consists of targeted exercise and walking in the underwater treadmill, along with massage and laser therapy at the end of his sessions. With gentle exercises, he is gaining muscle mass and bearing more weight on his R rear limb. More importantly, he is moving more comfortably overall.
Tigger starts out his appointments a little shy, but once the cookies appear for his exercises, he is your best friend! He is a pleasure to work with.