Pawsitive Steps 6th Annual Open House
Join us for a free public Open House at Pawsitive Steps Rehab!
Saturday, April 27, 2019 from 11am to 2pm
Please help us celebrate our 6th anniversary!
Learn about veterinary rehabilitation and physical medicine options for pets, including acupuncture, orthotic/prosthetic device development, veterinary spinal manipulation therapy (also called "animal chiropractic"), and options for pain control. Come meet Hercules, our "rehab spokespup", and some of his friends who will be showing off their treadmill skills (land and underwater treadmills) along with other floor exercises, if there is room.
Humans only please* (goodie bags for our stay-at-home friends).
Location and directions:
Pawsitive Steps Rehabilitation & Sports Medicine
1894 Star Batt Drive, Rochester Hills, MI 48309
www.pawsitivestepsrehab.com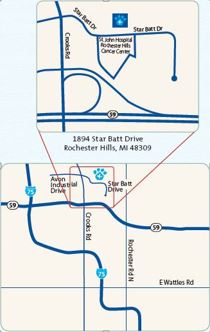 For more information, please call (248) 564-0309.
Mark your calendar!