So glad to have found Pawsitive Steps! Although initially I came to the fabulous team due to an iliopsoas strain suffered by my always enthusiastic, not always responsible Aussie Kona... my aging (but still going strong!) Aussie Boomer has seen significant improvement from being a Pawsitive Steps patient.
Being that both dogs are agility athletes I have found the exercises and therapy to have ongoing benefits in the ring (fewer dropped bars, etc.). But what I wasn't expecting were the everyday improvements I have noticed at home.
Boomer (who truly hates getting a bath) can now stand in the shower on 3 legs as I wash each foot - no more falling into the shower wall. Plus, when we're enjoying a indoor game of fetch with brand new fuzzy tennis balls, Boomer doesn't struggle to find a way over the ottoman - instead he simply backs up.
And while Boomer (considerably less enthusiastic than Kona) doesn't offer up new behaviors easily - he has learned several new ways to move and utilize more of his body. Slowly but surely he has gained muscle mass and strength as well as increased his physical confidence (he already had plenty of that mental herding kind!).
Boomer and I look forward to our sessions...and to growing old gracefully! As always, thanks for everything.
-- Jeanette Losey & Boomerang MX, AXJ, OF, APD, PRCH, PTM-B & 2015 USDAA Cynosport World Games Qualifier/Participant
---
I can never thank Dr. Kern and her staff enough for everything that they have done for my boy, Schnitz! Because of their expertise and compassion, Schnitz has a new zest for life. The Pawsitive Steps team is the best!
-- Valerie Ehrman
---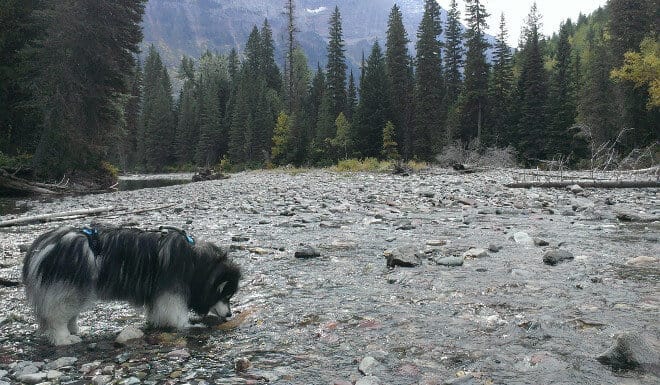 I wanted to give an update of Nahanni's progress this week to her therapy helpers. She's doing great, and as you can see uneven surfaces is a breeze when there's ice cold water at stake. This river is from one of the glaciers in Glacier National Park, Montana. I hope these pictures are a welcome sight and proof of the good exercises you've taught us. She had almost no problems maneuvering or with stamina on this trip and I'm very thankful for that."
-- Brandon Yuille
---
Our clinic cat Moozie has been suffering from arthritis and a front leg limp off and on for that past couple years. Moozie has been on medications to support her joints, and has had therapy laser treatment as well. When Dr. Kern started to use acupuncture in addition to the rest of her treatment the whole staff noticed a huge improvement. Moozie also noticed that Dr. Kern made her feel so good. In fact, she will follow Dr. Kern around when she's due for her next acupuncture treatment. Moozie purrs and drools (which is a sign that Moozie is very happy and content) during the whole procedure.
- Jessica Vandercook, LVT at Cats Veterinary, Clinton Township, MI
---
"Skylar is 14 years old and has arthritis in his back. He was barely able to walk until Dr. Kern used laser therapy and acupuncture on him. Now he is getting around much better."

-- Alanna Taylor
---
A special testimonial from an actual patient!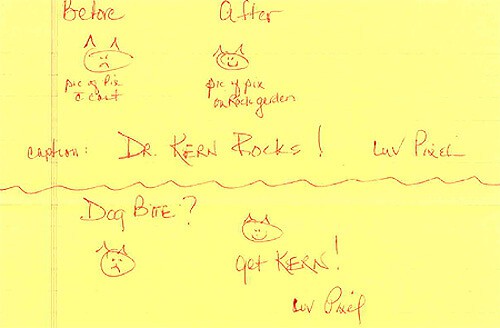 Following a bite & shaking by a rude unleashed dog, 2 major surgeries and a total of 8 weeks in a long leg cast, the muscles in my rear thigh had atrophied and my leg turned out when I sat. Dr. Kern spent 10 sessions of physical rehab with me. She made me rock side to side on half a blue ball, roll forward and backward on a big yellow blow up peanut, and dance on my hind legs like a human.
She won, well maybe bribed, my cooperation and affection with lots of treats! I am a cat after all. Now my thigh is strong as ever and I am able to run, jump, climb up and down the rocks in the garden and chase butterflies with ease.
Call Dr. Kern if your pet needs rehab with a caring and competent vet specialist! Anyone feel like dancing?
Paws Up!


---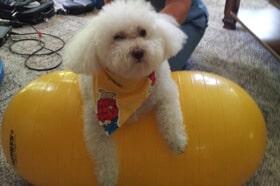 Dear Dr Kern, thank you for the wonderful job you've done on our dog Charlie. He has come such a long way since July when he had leg surgery. Your weekly visits have made such a difference in Charlie's rehabilitation, and he continues to improve daily. Thank you for your professionalism and your wonderful care.

-- Sincerely Mary Fuciarelli
---
Hello, my name is Mason. I'm an 11 yr old Newfoundland. I weigh 160 lbs. My favorite activities are: sleeping, barking at motorcycles, begging for treats, and sleeping again. I started laser therapy & acupuncture with Dr. Kern over a year ago. I'm feeling much better and am able to get up easier to go outside and bark at the rabbits, thanks to her. Due to my age & size, I have arthritis and bad knees & wrists. The laser therapy has helped tremendously. I am so glad we met Dr. Kern and hope to continue therapy for a long time.