January 01 1970 12:00 am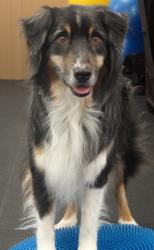 Meet Boomer, our February 2016 Pet of the Month! Boomer is a 9 year old Australian Shepard and he is an accomplished athlete, who continues to actively compete in agility, 2 to 3 weekends each month. We met Boomer after his housemate came to see us for an iliopsoas strain. Although Boomer was not having any obvious problems, he had hit a couple bars during jumps and his owner wanted to be sure that he wasn't hiding any issues. He loves to compete and would work through anything, so we checked him out.
At his evaluation, Boomer showed that he was in pretty good shape overall. He had some arthritis in almost all of his toes (yes, toes – a common location for arthritis in older pets, especially athletes), some myofascial back pain, mild muscle atrophy all over (despite his long history of athletic competition) and age related changes in his lenses (which can contribute to some depth perception and peripheral vision changes). Basically, his minor ailments were consistent with getting older, but why settle for that?
Boomer set out on a core fitness program to strengthen his core and improve his body awareness. He built muscle mass in his thighs and shoulders too. He has been a joy to work with and brings enthusiasm to every visit! His performance has improved in his sport too.
Boomer's official full name is Boomerang MX, AXJ, OF, APD, PRCH, PTM-B & 2015 USDAA Cynosport® World Games Qualifier/Participant
Boomer's mom shared some nice observations and comments about his fitness program in a testimonial recently. You can read it here on our website testimonial page or by typing this URL into your browser: http://www.pawsitivestepsrehab.com/new-clients/testimonials.html
**Core strengthening is wonderful for every dog – young, old, athletic or not. You might be surprised that even athletes may need core conditioning, but it is true in every sport and in every species. Many of our animals look like natural born athletes, with fluid motion and beautiful strides, but momentum can be powerful. Maintaining a strong core improves performance and helps to prevent injury, and it also helps to reduce muscular back pain.**