Wheelchairs & Our Pets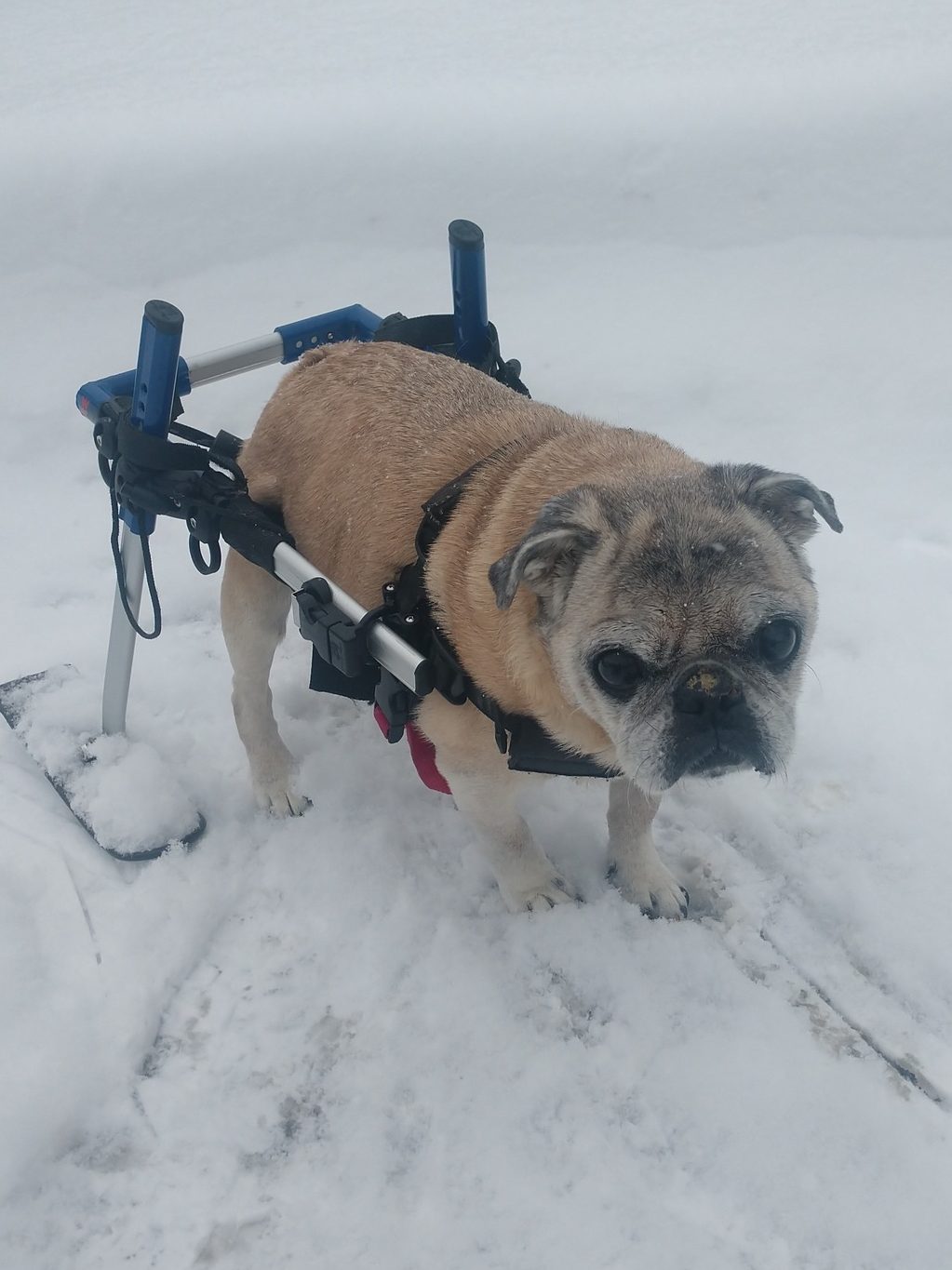 by Angelia Oliverei, LVT, CVMRT
Wheelchairs are an amazing assistive device that can provide our pets with a new outlook on life. Using them can give our pets the assistance to walk and run, which will improve not only their physical health but mental health as well.
Before Getting a Wheelchair
Before pursuing a wheelchair for your pet, it is important to know that they are not all are made alike as there are many types on the market. When looking for wheelchairs there are a few key components to keep in mind before purchasing a one.
Durability
A quality wheelchair should be designed to endure the elements and different surfaces (i.e. gravel, grass, cement, snow). As we know nothing last forever, that being said replacement parts or wheelchair maintenance should be provided by the company.
Functionality
The most important factor with any wheelchair is providing adequate assistance for the pet's specific needs. For example, if a dog has hind limb paraplegia but their forelimbs are fully functioning, they would need a wheelchair that provides assistance to the hind limbs and wouldn't need a quad wheelchair (i.e., a wheelchair that fully supports all four limbs).
Adjustability
Our pets don't all come in one basic size so wheelchairs should not either. A good quality wheelchair should be fully adjustable to fit your pet properly. The frame itself should be adjustable, being able to change the height or length is important in fitting our pets properly.  Depending on the wheelchair the saddle and or harness should also be adjustable.  Adjustability can often cause changes to the durability of the cart. 
Manufacturers
Now that you have done some of your research it's time to purchase your wheelchair for your pet. We typically recommend two specific wheelchair companies the first is Eddie's Wheels. They are a United States based company that make custom wheelchairs for pets. You can find their website here. These custom carts require specific measurements to get a proper fitting cart. Although they require specific measurements, the carts allow for some minor adjustments to be made after the cart is built.
Another great wheelchair company is Handicapped Pets. They also make other assistive devices for pets. You can find their website here. These carts come in many colors and sizes ranging from extra-small to extra-large. The carts have a lot of adjustability with different size parts to the cart (i.e. wheels, cross bars, saddles).  However, the adjustability can create some motion in the structure of the cart overall.
Rehabilitation Tools
Wheelchairs are amazing assistive devices and can also be a great rehabilitation therapy tool. We sometimes utilize wheelchairs for our patients early on to get them up and moving and some of our patients even graduate out of the wheelchairs. If you feel that a wheelchair is something your pet could benefit from just remember to do your research to find the best wheelchair for your pet's specific needs.