Summer Loving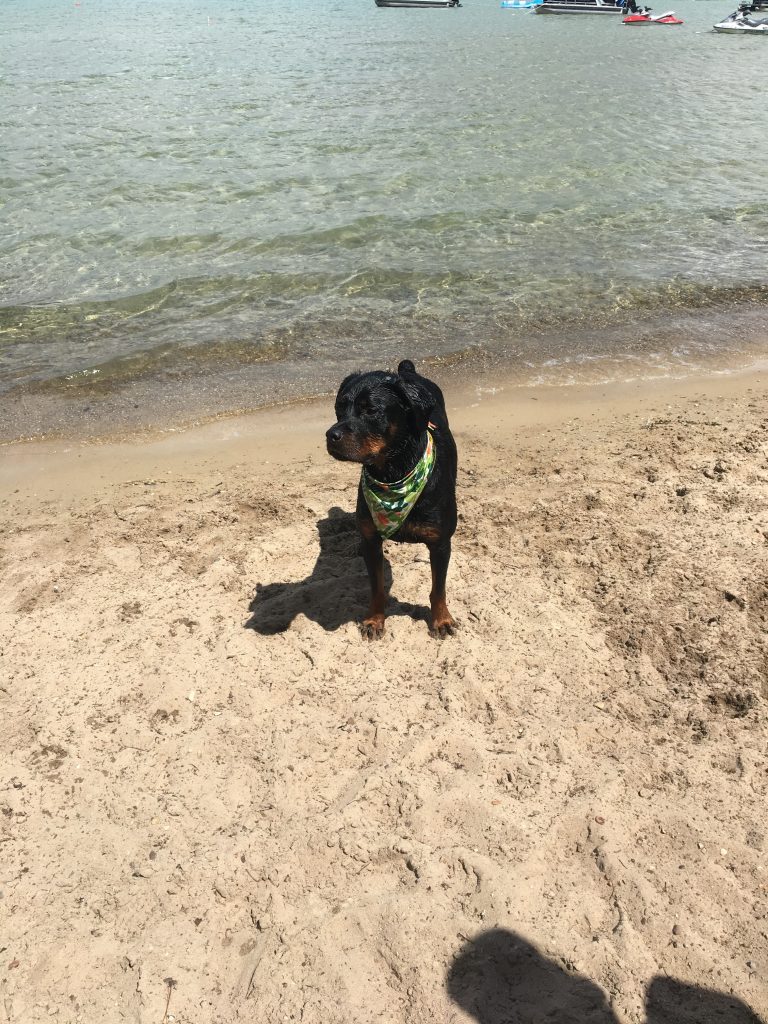 Jennie Houghteling, LVT
The weather is warm and that means summer is upon us! We may not always get a long summer here in Michigan, but that doesn't mean we can't make the most of it with our furry friends. Here is a list of some things to check off your summer bucket list with your canine companion.
Belle Isle
Belle Isle is definitely a summer destination to check off your bucket list! With sandy beaches and miles of trails your pup is sure to have some fun in the sun when you visit Belle Isle. If your dog has their "lake legs" Belle Isle has a boat launch so you can also take them out on your boat, kayak, or canoe.
Mackinaw City / Mackinac Island
Ferry rides, carriage tours, shopping, beaches and more await you and your pup at Mackinac Island! As long as your dog is not scared by horses Mackinac Island is a great place to take a trip with your pet for a day trip. With outdoor dining options, dog friendly shops and attractions, miles of shoreline, and many beautiful photo-ops you and your pup will have a great time on Mackinac Island.
If you or your pup are not fans of the open water stay on land and visit Mackinaw City! Interested in Michigan history? Be sure to check out Colonial Michilimackinac, where leashed pups are welcomed. There are also outdoor dining and shopping options, beaches, and trails to explore.
Visit the Great Lakes / Go Rock Hunting
Did you know that Michigan has 3,288 miles freshwater coastline? Michigan's freshwater coast with so many sandy beaches is a perfect getaway while still staying local. What makes that even better is that many of those miles are dog friendly! Michigan's Great Lakes are also a treasure trove of rocks and shells. Do a little bit of research before you head out with your furry friend to make sure that the beach you visit it pet friendly.
Camping / State Parks
Camping is a tradition in Michigan. Whether you use a tent, have a pop-up, or go in an RV camping is something that is fun for the whole family! Don't leave your pup at home when you take your family vacation, many state parks in Michigan are dog friendly. Just make sure that your campsite is pet friendly and your pup is reasonably well mannered.
The Mall at Partridge Creek
The Mall at Partridge Creek is a shopping destination for southeastern Michigan dog lovers. There is a pet bakery, many stores that are dog friendly, and even outdoor dining options. Be sure to get a "lickity split" for your pup from the bakery and enjoy a nice walk through the mall. With 70+ stores, restaurants, and shops (and many of them pet friendly) there is something for everyone!
Summer Festivals
Michigan has so many fun summer festivals! Some dog specific festivals include Bark on Biddle, Farmington Fido Fest, Barktoberfest, Frankenmuth Dog Bowl, and Bark in the Park at Comerica Park. There are many other dog friendly festivals throughout the summer including The Mid-Michigan Enchanted Forest Festival, Michigan Renaissance Festival, events at Canterbury Village, and many more! If you are not sure if an event is pet friendly just ask before you go.
Frankenmuth aka Little Bavaria
Winner, winner, chicken dinner! Honestly, who doesn't love going to Frankenmuth?! There are so many things to see, do, and eat and many places are dog friendly. Be sure to check out the Frankenmuth River Place Shops, many allow dogs and there is plenty of space to walk and potty your pup. For a really unique experience be sure to take your pup on the Bavarian Belle Riverboat for a paddleboat tour up the river! If you are looking to make this an overnight trip, be sure to check out the dog friendly lodging options in the area.
Summer Bucket List
Summer time is the perfect time for adventure! What is on your summer bucket list for your dogs?