Falling for Fall
Fun things to do with your pets as the weather cools off
by Jennie Houghteling, LVT
Fall is my favorite time of year! Crisp days and cool nights are so refreshing after a hot summer. There are a lot of fun activities to do in the fall, and what makes them even better is you can include your pet.
Go on a nature walk
Walks are easier for everyone in the fall. We do not have to worry about the sidewalk being too hot or dealing with high humidity. The crisp, sweet air is invigorating for both pets and people. Fall is a great time to get our senior dogs out and about. Dogs dealing with Geriatric Onset Laryngeal Paralysis and Polyneuropathy (GOLPP) are able to be more active in the cooler weather and do not seem to have an many breathing issues due to the decreased humidity. There are also many different sights and smells to take in on a walk in the fall. It is a great way to stimulate both the body and the mind.
Bring your furry friend to the cider mill
Who doesn't love a trip to the cider mill? Pets are no different. Dogs (and willing cats) can have just as much fun as their human counterparts. While they cannot have cider and doughnuts many cider mills are starting to carry pet safe treats as well.
Dress up in Halloween costumes
Halloween is just around the corner so now is the time to start thinking of costume ideas for your pet. Theme costumes are always fun! You could dress as twins or even as each other. As long as your kiddo is comfortable dressing up, the sky is the limit! Here at Pawsitive Steps we get the whole staff and our pets involved in our costume day!
Have pumpkin patch or apple picking adventures with your pup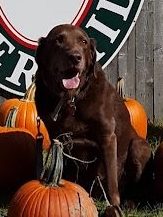 Pumpkin and apple picking are classic fall activities. Pumpkins and apples are both dog safe treats. You can even let your dog pick out a pumpkin of their very own! Just make sure that dogs are welcome before you head out with your furry friend.
Have a fun Fall photo shoot
Fall offers us so many beautiful photo opportunities. Why not use those beautiful backdrops to get some cute pictures of your 4-legged kiddos? Leaf piles, mums, haybales, scarecrows, and more will all make for great backgrounds and props for your fall photos. You can even add some cute fashion accessories like a scarf or hat if your pet is willing.
Take a Fall color tour
If your pet is a fan of car trips go ahead and bring them on your fall color tour. When you stop to check out the colors take them out with you. They will enjoy the change of scenery as well as spending time with you.
Be homebodies together
There are so many things you can do at home with your dog or cat. You can play fetch in the yard with a good stick or their favorite ball. Curl up together with a good book and a cup of cider. Snuggle down in the evening for your favorite fall flick. Air popped popcorn makes a great treat for everyone- pups included. You can even work your pet's sniffer by hiding small treats around the house. This is a great activity for dogs and cats on a rainy fall day.
Stay safe and happy
No matter what you choose do this fall remember to make sure that your pet is comfortable in the situation they are in. If your dog does not like to be around other dogs, do not put them in a situation where they will encounter other dogs. Before taking hitting the road with your fur kid make sure that pets are welcome wherever you are headed. No one will have any fun if you and your furry friend are stressed out. Be safe, have fun, and enjoy this beautiful fall weather