Rehab is Awesome Because…
By the Pawsitive Steps Staff
Why We Love Rehab and Why You Should Too!
Here at Pawsitive Steps, we love rehabilitation (obviously). Rehab can help a multitude of patients, even those who might not have an injury or haven't had a surgery. Some of our patients come to see us simply to get fit.
But what is it about rehab that we love? In this month's blog, we asked each staff member at Pawsitive Steps why they love rehab.
"Rehabilitation is amazing!  There are so many options and tools that can help improve a pet's quality of life.  I enjoy really getting to know my patients as individuals as well as their owners.  Manual therapies, such as massage, are very rewarding as we can see immediate pain relief and improved range of motion.  I also enjoy working with sport and working dogs to help them improve their performance. "
-Cathryn Adolph, LVT, CCRP, CCFT
"We are able to treat our patients with so much more than just medications. Sometimes our most powerful and effective tools are our hands. Seeing a patient walk out feeling better than when they walked in and knowing that you are part of the team that made that happen is an amazing thing. "
–Janelle Allen, LVT
"Rehab is awesome because it allows us to have a better relationship with the patients rather than in general medicine. Seeing the tail wags and happy faces when they realize where they are brings so much satisfaction to our everyday work lives. It makes us feel that we are truly a positive part of their lives, not just physically, but mentally as well (even if all they're really excited for is their peanut butter kong treats)."
-Hannah Clarke, LVT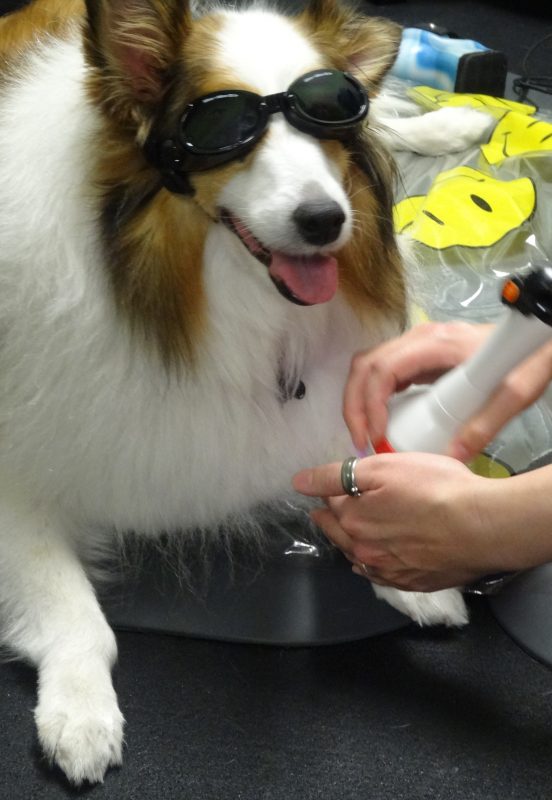 "Being at the front desk of rehab is awesome because I normally get to be the first point of contact, which means I help explain what we do in rehab and tell people about all of the different modalities we have available to help their pet. I think rehab really helps strengthen the human/animal bond, and I love being a part of that!"
-Jennie Houghteling, LVT
"Playing 'outside the box' is cool. Our patients challenge us daily to find innovative ways to relieve pain and improve mobility. It is so rewarding to be able to provide safe options that will not interact with other drugs that our patients need or adversely affect their other underlying medical issues. Medicine is constantly evolving and we need to also!"
-Tari Kern, DVM, CCRP, CVMA, CVSMT
                Resident, American College of Veterinary Sports Medicine and Rehabilitation
"What I love most about canine rehabilitation is seeing the gradual improvements of each patient week by week and the impact that it has on their families. It is also very rewarding to get to know them and develop a bond with them as we go through the rehabilitation process. I also enjoy performing a lot of the manual therapies that we utilize to help decrease muscle tension and improve joint mobility."
-Colleen Lum, LVT, CCRVN, CCFT
"We as technicians have the ability and knowledge to treat our patient using different types of modalities to improve their quality of life!  Being able to experience and see our patients improve and progress is so rewarding."
-Angelia Oliverei, LVT
If that didn't convince you that we love rehab, then I'm not sure what will! We love helping our patients and seeing them progress through the rehabilitation process. To see first hand why we love rehab and what it can do, call to schedule an appointment!