Latest News
PetMD.com interviews Dr. Tari Kern for Hydrotherapy article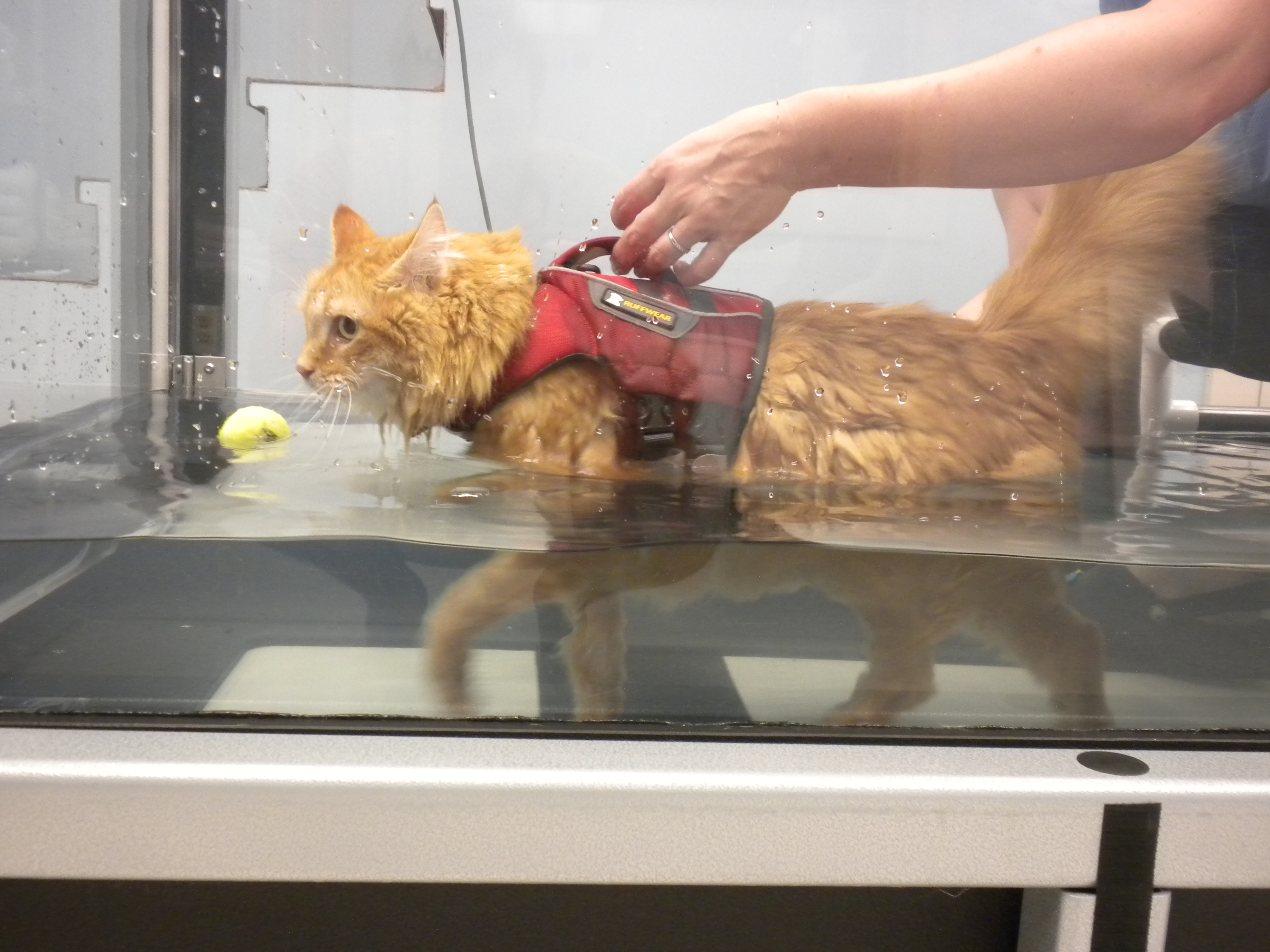 Dr. Kern was happy to help when PetMD.com reached out to Pawsitive Steps Rehab for information about the benefits of water therapy for pets. The final article "How Hydrotherapy and Swimming Can Benefit Dogs" is up online and can be read here: http://www.petmd.com/dog/general-health/how-hydrotherapy-and-swimming-can-benefit-dogs
Troy-Somerset Gazette features Pawsitive Steps Rehab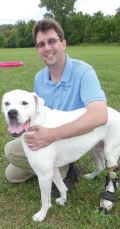 The Troy-Somerset Gazette explored the world of veterinary physical medicine and rehabilitation in their August 17th issue with an article about Pawsitive Steps Rehabilitation & Therapy for Pets. Check out the story here! /userfiles/2015 PS Article in Troy-Somerset Gazette - 17Aug2015, pg8.pdf
Detroit Free Press covers fantastic feline, Brunhilda, a Pawsitive Steps Rehab patient with the Michigan Humane Society
Brunhilda is an amazing little trooper, who we met through the Michigan Humane Society's efforts to help her through tragedy. MHS responded to a tip about a stray cat who couldn't walk in January 2015 and the found a little kitty with a big heart. She had some major injuries and would need a lot of help, but she purred and kneaded as they tended to her. Ultimately, Brunhilda lost her R rear leg because she had an old open fracture (bones out through the skin) that couldn't be fixed. She also had damage to her L rear paw (a dislocation healed in place and tendon damage resulting in severely curled toes). After a few surgeries at the MHS and prosthesis planning and casting with Pawsitive Steps Rehabilitation & therapy for Pets, Brunhilda was fitted with her "house slipper prosthesis" to help her be a fully functioning 3 legged cat. She was featured in the Detroit Free Press on July 10, 2015, as the MHS was starting to take applications for adoption for Brunhilda. Check out her news story and the wonderful video that the Michigan Humane Society made tracking her progress!
Update - Brunhilda was adopted! To view the updated video from MHS with her story, follow this link: https://www.facebook.com/michiganhumane/videos/10153085217992849/
Channel 7 WXYZ-TV covers Miss Daisy's Prosthetic Fitting at Pawsitive Steps Rehabilitation
Our patient, Miss Daisy, a 10 month old miniature donkey was fitted for her R rear limb prosthesis on June 26, 2015, and Channel 7 WXYZ-TV came to the office to cover the big day! Miss Daisy is the 1st donkey in Michigan to get a prosthesis and she took everything in stride. She loved the camera and made some new friends as she took her 1st steps in her new prosthetic device. You can see the news story if you follow this link: http://www.wxyz.com/news/pet-donkey-receives-prosthetic-leg
Pawsitive Steps Rehabilitation becomes Veterinary Practice Partner with OrthoPets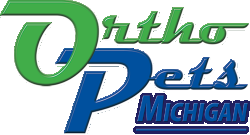 Pawsitive Steps Rehabilitation & Therapy for Pets is now also called OrthoPets Michigan! In June 2014, Pawsitive Steps Rehabilitation & Therapy for Pets became a proud veterinary practice partner with OrthoPets, a world leader in veterinary orthotics manufacturing, located in Denver, Colorado. Our unique relationship with them, as OrthoPets Michigan, allows us to help provide individualized orthotic and prosthetic device options for more complicated cases. Through careful planning, measurements, development and rehabilitation care after the device is built, successful veterinary orthotic and prosthetic outcomes are possible. For more information about veterinary orthotic, prosthestic and assistive devices and their benefits for animal, please visit http://www.pawsitivestepsrehab.com/veterinary-services/orthotic-devices.html
Oakland Press features our prosthesis patient, Miss Daisy, a miniature donkey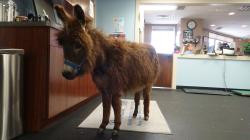 Miss Daisy, our miniature donkey patient, and Pawsitive Steps Rehabilitation &Therapy for Pets made the front page of the Oakland Press on June 6, 2015! Miss Daisy, is a 10 month old, miniature donkey. Although, our usual patients are small animals here at Pawsitive Steps Rehabilitaiton & Therapy for Pets, Miss Daisy has a unique problem. She had a wound near her hoof line on her right rear limb, which worsened despite the best care. Sadly, she lost her hoof on that limb and also her lowest 2 bones. Her folks and her regular veterinarian, Dr. Austen Epp (Michigan Equine Surgical Associates) brought Miss Daisy in to see if a prosthesis might be an option for her. We have been consulting with our friends at OrthoPets to see about helping this young lady out! They have worked with many different species to create orthotics and prosthetics for them and Miss Daisy looks like a great candidate! Can't wait to get her prosthetic device back from OrthoPets!
Read the whole story here and check out the video made by Springfield-Independence Video detailing a laser appointment here at the office with Miss Daisy:
http://www.theoaklandpress.com/general-news/20150605/independence-twp-couple-getting-prosthetic-hind-leg-for-pet-donkey
A follow-up story after her prosthesis was fitted was also published: http://www.theoaklandpress.com/general-news/20150707/miss-daisy-donkey-fitted-with-prosthesis
Best of 2014 Awarded to Pawsitive Steps Rehabilitation & Therapy for Pets
Pawsitive Steps Rehabilitation & Therapy for Pets was honored to be recognized the "Best of 2014" in the Veterinary Care category for Rochester Hills. It was the 2nd year in a row that we received this award and are pawsitively thrilled about it! As a relatively new business providing services in a new branch of veterinary medicine, it is incredible to receive recognition locally. Hercules and the entire staff appreciate the acknowledgement of the special care that we provide to our patients and we look forward to continuing to serve the local community for many years to come!
Midland Daily News Article Features Pawsitive Steps Patient, Missy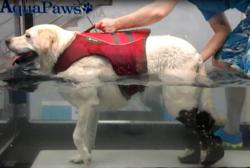 The Midland Daily News recently featured an article about a "local girl", a Labrador Retriever, named Missy and her orthotic "shoes". Missy has bilateral Achilles Tendon Insufficiency and wears orthotic supports on both rear limbs to help keep her hocks (or ankles) in a proper position to support her weight to walk. Missy is a rehabilitation patient here at Pawsitive Steps Rehabilitation & Therapy for Pets and we were so excited when we learned of her celebrity status. Her mom is very active with the Humane Society of Midland County and believes that people should know about all types of care options for pets...and we agree! She made sure that the reporter spoke to Dr. Kern about Missy's rehabilitation therapy and also OrthoPets about her orthotics.
You can read the article at the following link:
http://www.ourmidland.com/accent/orthotics-help-local-dog-walk/article_64071018-7b77-51d4-b809-115d722cd13b.html
Best of 2013 Awarded to Pawsitive Steps Rehabilitation & Therapy for Pets
We were honored to be selected as the "Best of 2013" in the Veterinary Care category for Rochester Hills. Hercules and the entire staff were so surprised and excited about the recognition. Mostly, we are thrilled to be able to help make a difference in the lives of our patients and the families who love them!
Pawsitive Steps Rehabilitation Supports Local Charity Events
Pawsitive Steps Rehabilitation & Therapy for Pets is excited to welcome in the 2014 Dog Walk season! Spring brings flowers, warmer weather and dog walks for great causes and other wonderful events. Hercules and Team Pawsitive Steps will be proudly walking to support many local charities again this year. Everyone is welcome to join us in the fun. Please check our events calendar website page for the complete listing and details of the upcoming activities!
Some of the next events include: Bark for Life (American Cancer Society) - May 3, 2014; Tail Wagger Two-Step (Michigan Animal Rescue League) - May 18, 2014; Mutt March (Michigan Humane Society) - June 1, 2014; Yappy Hour (Michigan Animal Rescue League) - June 5, 2014. We are sure that there will be others, so please check back often!
Pawsitive Steps Rehab Supports Local Animal Groups
Pawsitive Steps Rehabilitation & Therapy for Pets has been a proud sponsor of several local animal rescues, shelters and fundraising events throughout 2013 and look forward to continuing participation in local events in 2014. Some of the events we attended and sponsored walking teams included:
Mutt Strut (Dearborn Animal Shelter) - May 11, 2013; Tail Wagger Two-Step (Michigan Animal Rescue League) - May 19, 2013; Mutt March (Michigan Humane Society) - June 2, 2013; Yappy Hour (Michigan Animal Rescue League) - June 6, 2013; Bowling Night Fundraiser (4 Paws 1 Heart) - June 8, 2013; Lure for the Cure (K9 Explorers fundraiser to benefit the Susan G. Komen 3-Day) - July 14, 2013; Ties & Tails (Humane Society of Midland County) - October 12, 2013; MEGA March for Animals (Michigan Humane Society) - October 6, 2013; Cliome Collins Cancer Fund (Oakland Veterinary Referral Services) - October 18, 2013; 4th Annual Bowling Fundraiser (Tigerlily Cat Rescue) - November 8, 2013.
WXYZ TV, Channel 7 Detroit interviews Pawsitive Steps Rehab about Veterinary Prostheses
On Friday, December 27, 2013, Pawsitive Steps Rehabilitation & Therapy for Pets was thrilled to have Kim Craig with WXYZ TV Channel 7 in Detroit come out to the office to interview us about veterinary prosthetics and orthotics. We were able to have Willow and her parents here for the interview. We also had a brand new patient here at the same time as we just finished her initial evaluation - Nema, an 8 week old Golden Retriever puppy with a right forelimb congenital deformity, who will also likely get a prosthetic device in a few months when she is bigger!
Please check out the video link:
http://www.wxyz.com/dpp/news/region/oakland_county/puppy-with-deformed-limb-adopted-by-army-vet-now-getting-around-faster-with-new-prosthetic-leg
WILS, 1320 AM Radio in Lansing, interviewed Dr. Kern
Dr. Kern was interviewed by Lee Cohen and Rick Pruess of the Mid Michigan Pet Expert Talk Show on AM 1320 WILS in Lansing. Topics included veterinary medical acupuncture and rehabilitation therapy for animals. The audio segments aired on their morning program on Saturday, May 11, 2013. The podcasts can be heard here (acupuncture interview link & rehab interview link).
Rochester Patch features Pawsitive Steps Rehab!
Pawsitive Steps Rehabilitation & Therapy for Pets was featured in the Rochester-Rochester Hills Patch today (April 16, 2013)! Hercules was more than happy to demonstrate all of his favorite exercise equipment again and the Patch put together a very nice video presentation to go with the article. Please click the link here to check out the article and video: http://rochester.patch.com/articles/pawsitive-steps-uses-physical-therapy-to-rehabilitate-pets#video-14018691
Hercules Movie Trailer Launched on YouTube!
Our very own Hercules has launched a movie trailer of his progress through rehabilitation therapy last summer. It is available now to view on the Pawsitive Steps Rehabilitation & Therapy for Pets YouTube channel. Just click the YouTube link on this webpage to be directed to the YouTube channel. Please feel free to like the video and share it with your family and friends!
Pawsitive Steps Open House Saturday, April 13, 2013
Please join us for our public open house on Saturday, April 13, 2013 from 10am to 1pm at our new office at 1894 Star Batt Drive, Rochester Hills, MI 48309. The event is humans only please* (goodie bags for our stay at home friends). Come meet Hercules and learn more about rehabilitation and physical medicine options for pets. There will be snacks and refreshments to enjoy. Additionally, our very own rehab spokespup, Hercules, will be showing off his treadmill skills (land and underwater treadmills) along with other floor exercises if there is room. For more information, please call (248) 564-0309.